195 – Ryan Daniel Moran–Success Coach and Real Estate Investor
Today's guest is Ryan Daniel Moran, an entrepreneur, speaker, podcaster, and real estate investor. I'm very excited to bring you this interview because Ryan truly has a unique, entirely new approach to real estate investing.
Just to remind you, the Fail Fast Flipping program that Justin and I have created got started last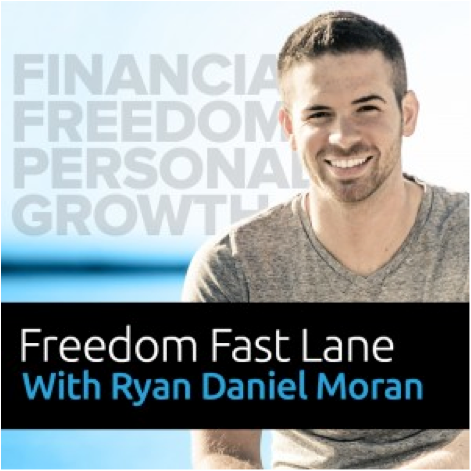 Monday and it's not too late to join us! This program is a game-changer, so if you're looking to start or build your real estate career, I highly recommend that you check it out.
Ryan Moran is a successful real estate investor, but that isn't his primary focus. He is the author of The Freedom Manifesto: How to Make a Million Dollars, Travel the World, and Live the Life of Your Dreams, and one of the most sought-after speakers and thought-leaders on lifestyle freedom in the world. Ryan is passionate about educating and empowering people to create profitable cash flow streams and businesses without having to compromise lifestyle.
Ryan emphasizes that he does real estate as an investor, not as a business. He makes the distinction between people who have a cash flow business in real estate, and people who invest in real estate to build for the future. Ryan belongs to the second category, and invests his profits from his other work into mostly single-family homes.
I find it very interesting that even though Ryan is successful in other fields, he still uses real estate as a powerful way to build net worth. This episode will really be fascinating for anyone who is interested in investing in real estate without making it their full-time job.
Ryan is only 26 years old, but he already has a supplement company, a yoga products company, and a men's health and fitness company, all of which are based online. Before that, he worked in digital publishing, where he built up an audience. Taking the profits he makes from his various businesses, he invests in real estate and some stocks. Ryan's goal is to have his life paid for without having to go to work, which means acquiring cash-producing assets that continue to make money whether he's there or not. He calls this "lifestyle design"–having the ability to create the lifestyle you want and to have the cash flow to support it. As Ryan says:
"Cash doesn't make you free, cash flow makes you free."
Ryan tells the fascinating story of how he used his high school graduation money to start an online business, with the long-term goal of raising money to invest in real estate. However, he mentions falling into the trap of learning everything he could about real estate but being too afraid to take action. Once he became successful in business, he had the confidence to finally do his first deal.
Going into his strategy as a real estate investor, Ryan keeps it very simple: he finds all his deals through one realtor he trusts, and by looking through the MLS. He really believes in the importance of analyzing what he's looking for, planting the seeds, and waiting for the right deals to come to him. The criteria he gives his realtor are taken straight from Gary Keller: 20 percent below market, profit 20 percent right away, put 20 percent down. When it comes to rentals, he wants to be profiting 1 percent a month on his total investment. This strategy is great for real estate investors!
Ryan uses a local property management company to manage his rentals and handle the rehab. He doesn't need to be involved in every specific decision, as long as he gives final approval. He really thinks of himself as an investor, not a landlord. I completely agree that, especially if real estate isn't your core business, you have to at some point to take a step back and steer the company instead of pedaling. Another helpful side note is using apps like Hello Sign to sign documents digitally, which saves Ryan so much time and effort.
Ryan focuses his real estate investing in the Cleveland and Akron areas of Ohio, because those are the markets he is most familiar with.
Ryan and I briefly discussed the economic crash of 2008, which didn't specifically affect Ryan. But, he did have some words of advice: in real estate, if you have a long-term vision of success and you buy right, time is always on your side. He recommends reading The Slight Edge by Jeff Olson on the topic, and gives us one of his favorite quotes: "Time will either promote you or expose you."  If you have a long-term vision of success, you will be successful.
As for Ryan's long-term real estate goals, he is very comfortable buying as many single-family houses as he can handle and having that cash flow. His next frontier would be to go commercial, but since he isn't a full-time real estate investor, he isn't in a hurry; he's waiting for the right opportunity to come along, if he has the time and recourses to really focus on it.
Ryan underlines that as long as you know what your goals are in real estate, you will be able to develop the right strategy to move forward, even if you don't get everything right along the way. I love that message and really think that activity is a big indicator of success, and successful people always keep moving, even if that means they're making more mistakes than everyone else.
Finally, Ryan says that he also invests in a lot of real estate investment trusts, which are publicly traded companies that invest in commercial real estate and are taxed differently because they have to pay out 80 percent of their profits as dividends. However, the dividends you get are taxed as regular income. I don't know much about this area of real estate, but Ryan is passionate about it and even gives us his favorite real estate investment trust. Make sure to listen to the podcast to get all the details!
Ryan has a really inspiring website which contains a podcast, his income reports, a collection of free recourses, and a link to Ryan's book–I know I will be buying it, and I recommend you all do too!
This was a truly unique interview, and I'm so happy to share Ryan's perspective on the industry with the listeners of Just Start Real Estate!
Links
The Freedom Manifesto: How to Make a Million Dollars, Travel the World, and Live the Life of Your Dreams